LOCAL TWITTER
BLOGS
DINE ON THE WHALES
Wild Bill's reflections on poker, sports, and issues facing the Gulf Coast. Wild Bill is one half of GCP, Plays, Coaches, and helps run Gulf Coast Poker Tour.
..
Gene D is the other half of GCP. Gene shares his outlook on the local and national poker scene. His mantra is money won is sweeter than money earned.
Will Souther is the Poker Monkey. Take a look at his always entertaining views on the tournament poker circuit, gambling and life in general. The founder of the Monkey Minions never sugarcoats it.
Nolan Dalla.com is where you find the wit and wisdom of one of the most well known poker writers in the industry. His home blog covers a wide range of topics written with that singular Dalla conviction.
Jonathan Little an all time top tournament poker earners, is from Pensacola and currently operates a coaching site, which includes his blogs and videos you can find it here.
BEN SAXTON is writing a poker book based on the Gulf Coast scene. Here is an archive of interviews and features of poker players from all over but with a spotlight mostly on our locals.
N-SIDE POKER
PLAYER N scribes tales of grifters, sleaze balls, and beautiful card sharks all hustling on the Coast.
PARTNERS
MR. APPLE:
World famous New Orleans candy apples and signature desserts. Around the corner from Harrahs NOLA. Order yours online right now!
Go
HERE
MONTHLY WSOP 10K SATELLITE:
Last Sunday every month. Next: February 23rd,
High Noon, $600, 20k ss.

And, single table $140 sit 'n goes and 11 am $200 Saturday tournament.
OUT OF BOUNDS SPORTS BAR AND GRILL
4445 Veterans BLVD, Metaire, LA
504.889.7359


POKER GRAS III
Coming NOVEMBER 2020
Below are results and news from I and II
NEWS
DOUBLE NEWS:

DOUBLE WINNER:

There is still a Gulf Coast Poker Awards/Poker Gras article to come but just in case anybody missed the big results on any of our platforms... Congrats to Joe Saleh who paired his Gulf Coast Poker Player of the Year Award with the title of King of Poker Gras for winning our Main Event. What an accomplishment!

Jaron Bailey closed out the tournament by winning the Sunday turbo. Shout out to Mobile as two members of All-In Entertainment Thao Le and Duane Nelson made the final table and the money too.

JACKSON'S SECOND HOME AND SECOND TITLE:

David Jackson, another GCP Award nominee out ofJacksonville, might want to think about moving to Atlantic City and just grind Borgata events. Yesterday at the Borgata Fall Open he won 211k, got credit for the W and the trophy in the $2700 Championship. Guess Joe has company in the next player of the year category.

Does this story seem a little familiar? That's probably because you remember Jackson in April winning the Borgata Spring Poker Open Championship (304K). Oh and a couple of weeks ago he won a prelim event for 32k. He's starting a collection of Borgata trophies.

GULF COAST POKER TOUR
Pearl River, MS
Bossier City, LA Poker Gras, NOLA

More coming soon... Properties inquire
here
PO
K
ER
G
R
A
S
Ok Folks....we are there. We blew through the 100k guarantee midway through Flight C. We are almost right at 200 players running hot. Come on out as Flight D kicks off at 4pm sharp.

Poker Gras Main Event Updates on the GCP Facebook page here:
https://www.facebook.com/Gulf-Coast-PokerNET-491654645370/
Gulf Coast Poker Awards also bought to kickoff...and dont forget to visit the Makers Mark Bust-out lounge

Flight D Chip Counts
Joe Mince 203000
Mike Drezanick 137000
Jon Wiseby 203000
Nakota Foster 135000
Tim Sanderson 90000
Aldi Zughayer 242000
Flight C Chip Counts

Mike Monaghan 426000
Charles Bartlett 205000
BJ McBrayer 82000
Todd Skinner 265000 (pic with Charlie)
Ben Saxton 284000 (pic)
Pat McNamara 317000
Jason Bailey 107000
Mark Holmes 75000
Gui Zheng 155000
Mike Vernace 254000
Umut Utku 78000
Ryan Taylor 57000
Faith Giordano 247000


Flight A Chip Counts
Curtis Picard 18600
Lance Williams 213500
Adam Swales 232000
Ali Monteferrante 229000
Dustin Stewart 147500
Victor Holcomb 218000


Flight B Chip Counts
Richard Kaplan 183000
Stanley Seelig 90500
Steve Bierman 152000
John Cressend 401500
Walter Miskelly 323000
Shane Lewis 153000
Randy Gordon 130500 (pic)
Tim Repp 138000


PO
K
ER
G
R
A
S




POKER GRAS ANNOUNCEMENTS:



SOCIAL MEDIA CONTEST WINNERS:

Today in the Bag the Schwag Flight Hugo Deinken, Tyler Berry, Janice Randall, and Victor Holcombe will play their hard earned seats. Thanks to everybody who liked, shared, tweeted and retweeted. We had to pull a couple of names for one because some of ya'll didn't quite follow ALL the instructions or couldn't play today. In the future if the tweet says follow, like and share... Don't forget to FOLLOW! :)

BAG THE SCHWAG FLIGHT COMMENCES:

11am the Bag the Schwag Flight, including the lucky winners of free seats, will give you a chance to bag chips for Day Two on Sunday AND maybe win some Schwag. If you are chosen as a bounty and take GCP patch to the the Bag and you'll get the schwag. If you bust a bounty and hold on to the patch until the next break. You get the schwag. Prizes include gifts donated by Maker's Mark, Tee to the Green Magazine, Mr. Apple and Gulf Coast Poker.

Later today very reasonable Single Table Satellites to the Main Event. $130 Buy-in awards two players $600 seats to the Main. Also $150 Bounty tournament tonight.
PO
K
ER
G
R
A
S


Quick note to Harrahs huge thank you for indulging us with all our quirky formats and events. Yesterday with a tag team, a heads up and a working man's event was extremely labor intensive. Thank you Robbie Gertsner and Bruce Barret for all the hustling you guys did to make these run as smoothly as they could even with all our experimantal hurdles. Thanks Chase Haydel, Jo Ella McIntosh and the rest of the floors and dealers for getting it done!

POKER GRAS EVENT #5
WORKING MAN'S

102 entries played for a prize pool of $16,830.

1st Dr. Juan Fukuda $5049
2nd Justin Osborne $3029
3rd Prissy Giroir $2019
4th Stephen Gutierrez $1683
5th Zack Kinsley $1346
6th Dale Trosclair $1009
7th Charlie Bartlett $831
8th. Stanley Seelig $660
9th Jeff Densen $504
10th Stephen Bierman $350
11th John Gibbons $350

Cory Harrison and Sley Sancez were the last two players to bust before the money.




Another note about Prissy Giroir she and her husband Jerry won the tag team event during this event. We'll have those results up later today. They got the better end of a heads up chop with Charlie Gelvin and Kenny Milam. While Jerry had to play most of that event, Prissy's domination this week still would win her Poker Gras Player of the Year at this point (if we had that award). Consider the fact all she's done is final table almost everything it's hard to deny her that recognition.




POKER GRAS EVENT #4
HEADS UP

Chris Dupuy might be THE heads up specialist on the Gulf Coast (move over Jeremy Eyer?) winning a second heads up crown on the Coast in a little less than a year. He confirmed a title he won at the Beau Rivage with another win here. He's also had another deep run or two recently.

This time he pipped Jaron Bailey to win the title of Poker Gras Heads Up King and $2400. Jaron earned $1400 for second. Jerry Giroir and Phil Treaudo both made $500 for losing in the semi finals.
PO
K
ER
G
R
A
S
POKER GRAS ANNOUCEMENTS:


Today:
2 PM Tag Team $400 per team.

Restarts:
11 AM Heads Up
4 PM Working Man's.

Tomorrow:
11 AM FLIGHT A Main Event Bag the Schwag Flight. 100k Guarantee.

If you play this flight you will be eligible to win some bonus prizes in the tournament. Stuff like those awesome Maker's Mark bottles. Also, thanks to Tee to the Green Magazine for their surprise schwag donation.

At 7pm there is a $150 No Limit Hold'em Bounty tournament. And we are working to get some single table satties to main in the afternoon.

Go here for the
schedule
AND scroll all the way down for the Main Event structure button.

PO
K
ER
G
R
A
S



RESULTS



POKER GRAS EVENT #5

WORKING MAN'S MULTI-DAY

A total of 102 entries to blow by the $10,000 guarantee. Seven players bagged tonight and will play on Wednesday at 4pm with the six players from Monday Night's flight for $16,830 in prize money.
13 return with 11 paid. First place over 5k.

Chips for A + B:
Justin Osborne 346,000 (b)
Stanley Seelig 301,000 (a)
Steve Gutierrez 136,000 (a)
Jeffery Densen 130,000 (b)
Sley Sanchez 96,000 (b)
Steve Bierman 94,000 (a)
Corey Harrison 87,000 (b)
Zach Kinsley 81,000 (b)
Juan Fumoa 71,000 (b)
Charlie Bartlett 63,000 (a)
Prissy Giroir 55,000 (b)
Dale Trosclair 52,000 (a)
John Gibbons 16,000 (a)




POKER GRAS EVENT #4
HEADS UP

Joel Doney, Jerry Giroir, Scott G, and Jaron Bailey made it through the Flight B side of the bracket. Joel advanced by beating Robert "Spider" Henderson and then Gleen N. Jerry took out Bill Phillips in a marathon three hour match and then bested Steve Meyers in a shorter contest. Scott G beat Bruce Little and then Prissy Giroir. Jaron Baily beat Judy Leblanc after dispatching Steve Bierman.

Today at 11am it's Joel v. Jerry and Scott v. Jaron with the winners colliding to see who will face the other side of the bracket. Over, there it's Chris Dupuy vs. Easton Oreman and Phil Treaudo v. Chris Canan. The final four get paid. Good luck all!
PO
K
ER
G
R
A
S

POKER GRAS EVENT #3 BOUNTY:

Devin Shrake beat Big Phil Treaudo heads up to win the plaque after agreeing to a three way chop. Micheal Vernace got the third share. Congrats also to Anthony Dixon and Ross Leitz who cashed in fourth and fifth respectively.

POKER GRAS EVENT #5 WORKING MAN'S:

$200 buy in with reentries

FLIGHT A:
6 players bagged. They will be close to the money on day two.

Chip Counts
Stanley Seelig $301,000
Steve Gutierrez $136,000
Steve Bierman $94,000
Charlie Bartlett $63,000
Dale Trosclair $52,000
John Gibbons $16,000

Flight 5B starts on Tuesday at 4pm with registration open until the start of level 9 which will be approximately 8:20pm.

POKER GRAS EVENT #4 HEADS UP:

Four players advanced to Wednesday. Still time to join them.

Chris Canan beat Joe Meteye and then Steve Meyers to make day two. Canan will play Big Phil Treaudo who beat Lee Thibodaux and then Jerry Giroir. Easton Oreman beat PJ Horrigan after getting by Steve Bierman. Easton will play Chris Dupuy who took out Bill Phillips and earlier Scott G.

Today at 11am the other half of the bracket will play out. You might want to call ahead to lock up your seat.

Final eight players (four from A and four from B) will join up and play it out tomorrow with the final four getting paid.

PO
K
ER
G
R
A
S
Main event starts Thursday at 11am with a $600 buyin Flight A. Flight B starts at 11am on Friday...then we slide into Saturday where we have 2 flights ...Flight C at 11am and Flight D at 4pm Saturday.

$100k Guarantee and we had almost 250 players last yeat ...we are anticipating coming in North of 300 runners this year. Plan your days accordingly.


RESULTS:
EVENT 1 REENTRY:
1. Ronald Lane $11250
2. Prissy Giroir $6750
3. Jaron Bailey $4050
4. Desmon Holmes $3600
5. David Chocheles $3150
6. Corey Harrison $2700
7. Stephen Bierman $2250
8. Peace Marvel $1800
9. Bruce Little $1350
10. Hugo Deinken $1350
11. John Ducote $1350
12. Easton Oreman $1350
13. Ronnie Hope $900
14. Ryan Taylor $900
15. Derek Ridley $900
16. Daniel Herrinton $450
17. Charles Bartlett $450
18. Bruce Little $450
EVENT 2 GAME OF THE CENTURY:
1. Jason Regas $2145
2. Derek Ridley $1287
3. David Fry $858
PO
K
ER
G
R
A
S EVENT ONE CONTINUES TODAY!


Event 1 features a BagWow! format. It's a best bag forward three flight event. Meaning you start Day 2 with the biggest bag you advance. But wait... there's more. Bag Twice... win a Poker Gras Main Event seat (added to the Prize Pool). Hold up don't stop reading, there's even more... Bag Thrice (nobody says thrice)... win a Poker Gras Main Event seat AND $900 cash (paid out on day 2). First flight featured 8 baggers. Two flights today!


POKER GRAS HOTEL ROOMS:


Due to two large coventions in town, rooms at partner hotels and those near Harrahs are at a premium this year. Unfortunately, not just the poker world realizes what a fun city New Orleans is to visit.

However, if you dodge rush hour there are a lot of comparitively cheaper options, in Metaire and outside the city, within 10 to 15 minutes. Here's a search we found on
Trivago
for Metairie including (at the time we searched) options for ~$82 a night.


MAKERS MARK BUST-OUT LOUNGE?


Bad beat, coolered, bluffed it off? Come get a complimentry Maker's Mark cocktail to take off the edge. Details
here
.



UPDATES AND LIVE FEEDS CAN BE FOUND ON THE BLOG OR FACEBOOK...


We will be blogging some Poker Gras final tables, and some of the events here and there. For sure most of the Main Event. Check in these places for more coverage. Or if you'd just like to review the action from the just completed Pearl River Poker Open.

TOURNAMENT
BLOG
and
FACEBOOK
.

POKER GRAS MAIN EVENT RESULTS
ALL HAIL KING MIHAIL!
Mihail Karasoulis battled heads up with David Nicholson for the title of King of Poker Gras in the first edition of the $580 Big Blind Ante Main Event. They were the final two of 279 entrants.

The heads up action didn't last long as DNich overcame a chip disadvantage to even the stacks. A chop was decided on, and a high card decided the champ. Fittingly Mihail drew a King of Hearts and earned the crown and the title. Each player earned over 27k.

The final table also featured Dustin Moore (3rd, 15k), Huey Hulin (4th, 11k), and Shawn Calvit (5th, over 8k). Our live action and photo threads on Sunday on our

Facebook page

chronicled much of the bust-outs and some of the action. Many of the big hands centered on Steve Bierman of New Orleans who finished 6th for over 6k.

David Pote earned almost 5k for 7th. Always great to see WSOP bracelet winner Corey Harrison final table anything as the 8th place finisher's infectious laugh usually keeps the mood humming. Harrison earned almost 4k. Longtime friend of GCP Todd Skiner of Youngsville, LA rounded out the final nine earning a little over 3k.

The second nine included Charles Miller and James Nolan (10th, 11th for $2487), Stan Barre of New Orleans (12th 2487), Kwong Ip (13th $2044), Dale Trosclair (14th $2044) and Jason Reisenberg (15th $2044). Also, making it to the final two table and all earning $1700: Danny Doucet, two from Baton Rouge; Frank Alpandinar and Luiz Sa.
A QUICK THANK YOU!



The feedback on our first ever event has been great with many citing the structure and the starting chip stack as highlights. We are grateful to everybody that entered a tournament and chose our event this weekend. It's a crowded marketplace and we want to provide the best possible player friendly events we can. We implore you please give us as much feedback as possible on the things that worked and those things that didn't. Email here.

Huge thanks to those of you like David Rabalais, Danny Doucette, and Freddie Ardoin, who traveled from far or changed plans to join us. And we also understand so many of you wanted to come but couldn't (we'll see you next time).

We at GCP (Gene Dudek and Bill Phillips) are tremendously grateful for everbody who turned out or shared/promoted our event. The non stop hard work by the Harrahs floor staff Robbie Gertsner, Joella Macintosh, Mel Emnon, Timmie Louie and of course Chase Haydel inspired us. Also, a great job local dealers and traveling dealers. Not to mention the spirit of the players in general. We got some tweaks ahead of us, but from the Short Deck Tournament to the Big Blind Ante Main to the Closer we are really happy with the final product.

Now back to the reporting...
KUDOS TO QUEEN KATIE:

Katie Pansano (pictured above with Mihail) hung on to a short stack to finish as the first Queen of Poker Gras for being the last woman standing. She outlasted Amee Dave and Rebecca "Smiley" Campbell to earn the title, then survived the bubble and laddered up to 19th. Great job Katie!

Others that cashed in the top 30 included, Andrew Bulliard, Matt Sirchia, Shep Simmons, Thomas Barlow, Kris Kent, Randy Gordon, Jonathan Wiseby, Jason Anderson, Wayne Neyland and Jerry Giroir.
CLOSER RESULTS:


Tim Repp (pictued with Chase Haydel) of Baton Rouge won first place late on Sunday night and over 7k for triumphing in the 130 person touranment. He bested Jerry "Crusher" Giroir heads up (2nd $4501). Steve Meyers placed third for $3247.


Christian Boedding won over $2300 for fourth with Big Phil Treaudo taking home $1784 for 5th. Cody Yawn, Charles Miller, Judy LeBlanc, and Mark Bowman rounded out the final table. Yen Vo of NOLA, Trent Marcell, Mark Barlow, Diana Timphony, Brian Woodbury and Renee Skinner rounded out the 15 in the money finishers.


OFER ON THE OVERLAY:
Three times we've sounded the clarion call to the poker masses of an OVER-LAY and three times folks came out of the woodwork to surpass the guarantee. One year a Main Event at Pearl River looked a sure thing to be short after a cancelled day one flight, and day two jumped with players. A week ago, on Halloween a misprint guaranteed 20k on a Wednesday and again, Pearl River overflowed with last second arrivals. That one was all but guaranteed to be an overlay and smashed it.

Sunday, our own Closer (a $250 turbo tournament with 30k SS) also seem fated to fall short of a guarantee and Harrahs New Orleans ended up being filled to the gills with players.

So... we are self-imposing a moratorium on the word overlay for at least a year. Although we won't "guarantee" that either.

CHOP-CHOP-CHOP IT UP!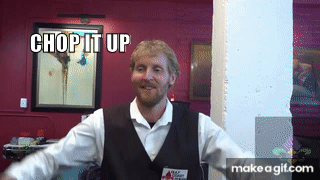 The second nightly chopped up the money 11 (?) ways. This played like a Saints fan home game (fittingly enough). Dominic Carallo, Charles Gelvin, Luiz Sa and Larry Douglas were in on the deal. They played it out for the three $580 seats and Prissy Giroir, Wayne Neyland, and Piyush Mittal took them.
COMMANDANT CRUSHER GIROIR WINS AGAIN:
We thought we award Jerry Giroir a nickname as he's been white hot for well over a year now. We dubbed him Crusher and one of his friends suggested Commandant Crusher. Either works for us. He is a Commandant in poker for sure.

In the first nightly, no chop as Jerry earned over $1700 for first, Aaron Lipskar over $1100 for second, Ray Laugha of Chalmete over $500 for third, and David Chocheles cashed in fourth.
SHORT DECK:
Anthony Kolesa (pictued with TD Robbie Gertsner) seemed to know a little more than the rest of us in this first time on the Gulf Coast event. He earned almost 4k and the title of Short Deck Champ. Chard Tardiff of Slidell finished second for almost $2500, Corey Harrison third for $1600, and Queen Katie fourth for $1113. Also, in the money Nathan Lidsay and Willie Jefferson of New Orleans.

Everybody that played enjoyed the event and most said they'd play the format again. Like the Big Blind Ante we have to admit it's addictive. You get a taste of it you are going to want more.
For more news that no longer qualifies as the latest, because... it's no longer recent, follow the link below...
ARCHIVED NEWS BLOTTER CENTER>>>
AND MORE
LINKS
GULF COAST POKER
FACEBOOK
TWITTER
POKER GRAS
PEARL RIVER
TOURNAMENTS
ARCHIVES
WHO'S WHO
C
ONTACT US
TWITTER